Blog
Watch of the Week: Tram Collection
by Tokyo Bay on Jun 20, 2022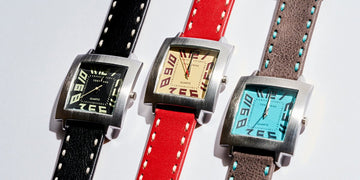 Tram Watch Collection by TOKYObay
We are so excited for this week's Watch of the Week. The Tram Collection has been a best-seller for almost 20 years. It was even selected as part of The O List by Oprah for The Oprah Magazine in the fall of 2006! Years later and the Tram has become a TOKYObay cult classic.
Featuring a bold stainless-steel square watch case. With a large dial, the Tram is suitable for men in a classic fit, and women to create a bold oversized look. The dial showcases a two-toned color pairing, allowing for the unique and retro slanted numbers to shine.
This detailed watch design is paired with a wide genuine Italian leather watch band, showcasing a thick top-stitched linen pattern. The Tram watch collection comes perfectly paired, but you can also mix and match colors, or replace an old favorite with a new watch band! The Tram 22mm bands come in a wide variety of colors, or shop all 22mm TOKYObay watch bands to make the style uniquely yours.
We also have a limited quantity of Tram Collection watches available in Vintage Warehouse. TOKYObay Vintage Warehouse items consist of one-of-a-kind, discontinued, end of run, or showroom styles that may have slight imperfections. All TOKYObay Vintage Warehouse purchases are satisfaction guaranteed, have never been worn, and are backed by our industry leading 5-year manufacturing warranty. Explore the vintage Tram colors here.
Love the style of the Tram, but looking for something smaller? Explore the best-selling Tramette Collection - the smaller partner to the Tram. New colors and restock coming August 2022.
.