Blog
The NATO Watch Strap & How To Wear It...
by Amber Isaacs on Sep 08, 2016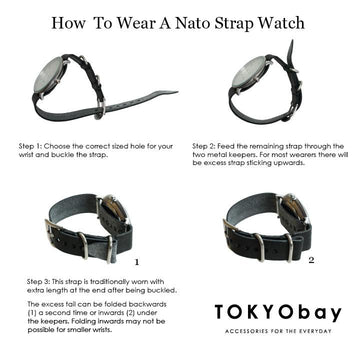 Since we launched our Noah Nato, League and Basic Leather watches, we have received a lot of good questions from customers about why the strap is designed this way and how best to wear it. Well, here it goes...
WHY?
This military inspired design was called the NATO strap when it came into use in 1973 by the British Ministry of Defense. It was originally called the 'G10' referring to the type of form soldiers had to fill out to get their hands on one.
Since it was going to be used by the army, the NATO strap needed to be functional and secure. The slide through strap has extra nylon (or leather) which loops under the case at the back and is held with a metal keeper, ensuring the case cannot move on the wrist. If a spring pin breaks or pops out, the case will still be attached with the other spring bar.
The nylon featured under the case was also designed to keep the watch metal off the skin to avoid injury in extreme temperatures. The longer length of the strap comes from a need for versatility so the watch can be worn on the outside of any uniform or garment without having to find a new band. 
For larger wrist sizes, these NATO looks are the perfect solution since the strap is longer than our standard ones. You most likely will not need to tuck the excess back.
These cases slide along the strap as opposed to being attached directly with a spring pin so it really depends on where it sits as to how much tail you have extending beyond the keepers. However you wear them, these are classic effortless looks that are built for the every day.