Blog
The TOKYObay Designer Series
by Amber Munden on Oct 29, 2015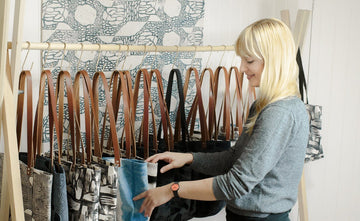 We are so excited to launch our first installment of the TOKYObay Designer Series which highlights and supports on the rise talents from our own backyard here in San Francisco and abroad. All of the designers featured will share their story and process with a curated selection of their line available to purchase.
First up... the lovely Julia Canright, San Francisco native, block printer and bag maker.
Julia Canright began block printing about 3 years ago, turning her existing stylized drawings into hand carved blocks. By repetitively printing each block onto canvas, Julia creates unique and intricate patterns that perfectly suit the line of stylish canvas totes, bucket bags and backpacks. Her work ranges from simplistic, almost Zen like brush strokes, to detailed geometric patterns inspired by Japanese textiles, botanical drawings and even San Francisco architecture. We spent a day in Julia's sunny Mission District studio getting her story as she worked on a few of her pieces.
Keep checking in as we will be adding more designers in the coming months with behind the scenes looks into how they are made and what makes the designers tick. 
What is your source of inspiration?
I find it in a lot of different places. Antique wallpaper, Soviet textile design, Japanese block prints, SF architecture, Botanical drawings and also from modern and expressionist art. I get inspiration from block printing itself. I've gone through the process of developing an idea, carving, printing and finding a repeat so many times that it begins to inform my initial ideas of what will work in the medium.
What is your favorite place to go in San Francisco?
Bernal Hill. I really like the 360 view from up there. You can see so much of the city but everything feels so close. You can see all the individual houses and buildings pressed together. 
Name three things you always need to have on you every day.
Phone, keys, wallet and inevitably paint!
Dogs or Cats?
Dogs for sure. Although I'm not anti-cat at all…I had 3 cats growing up!
What is style to you?
I think style is a great way of expressing yourself. You're showing what you value and what appeals to you in ways you don't always get the opportunity to express in words. I don't have a very cultivated personal style - I generally just pick things that I like and make me feel comfortable (although I am very particular!). 
How does living in San Francisco affect your designs?
I grew up in the Mission district and it's definitely influenced my aesthetic. This place has such a strong visual culture - all the art, signage, graffiti, gardens, and distinct architecture. You don't always notice it but it seeps in as you walk around every day. I think the density and richness of the visual information here causes me to be drawn to sort of chaotic compositions. And then there is the reverse of that as well - maybe a reaction to all the stimuli - I love the simplicity of a black brush stroke on a white background. 
What's on your playlist at the moment?
Kate Bush's album Hounds of Love. So good!
Favorite time of day?
I really like the morning because there is coffee. I also like the feeling of having a whole day ahead of me to work, create and get stuff done.
How did you get in the process of printing and making bags?
I started block printing about 2 or 3 years ago. I really love the process of designing, carving, and printing and I think the medium suits my aesthetic really well. I wanted to turn my designs into something practical that I could use, that I could bring with me throughout my day. I learned how to sew and started making bags with simple, practical construction that highlight the design of the print.
How would you describe the style of your work?
My work is graphic and unique. The patterns are all very different but I think there is a definite style through line that reflects who I am and my aesthetic. Each block starts with an idea and a drawing that I carve. The repeat of the block is definitely my favorite part because the repeating pattern becomes a new composition unto itself. The block printing also adds a complexity and variety to the overall look of the bags - each imprint comes out slightly differently. It's not like screen printing or digital printing where everything is uniform. Each bag has variation that reflects the process which I really like. 
Julia wears the Small Jet Watch.